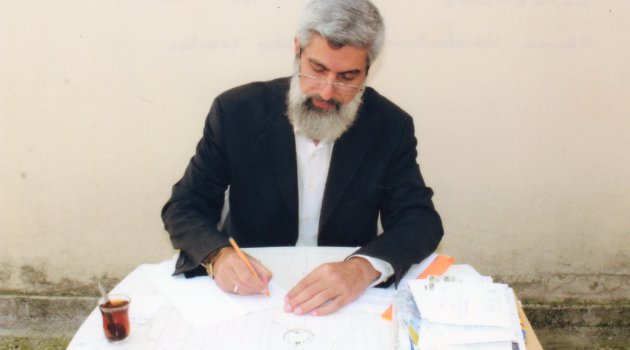 Alparslan Kuytul and the chairman of the Furkan Foundation, Ali Alagöz, who has been illegally detained with him for 15 months, now have to spend another three months in prison. This was decided by the court in Adana. The next court date has been postponed to the 22nd of August.
The fourth major Criminal Court in Adana, at today's second hearing in the trial regarding allegations of "founding and leading a criminal organization" and "serious fraud", decided to continue the detention of the scholar Alparslan Kuytul and Ali Alagöz, as well as to transfer the court to a later date. The reason given for this decision was that evidence must continue to be collected. The next trial date is on 22 August 2019.
The scholar Alparslan Kuytul, connected to the courtroom via the online transmission system called SEGBIS, raised the following about the accusation of being an criminal organization: "Which criminal organization would teach the life of the Prophet? Which criminal association would teach the Quran exegesis? Which criminal denial would offer alternative education programs? "
He continued his defense as follows: "In addition, in the prosecution is written about me, 'He wants an Islamic civilization'. Immediately afterwards it is said: 'But he criticizes the government'. Yes! I want an Islamic civilization and that's an honor for me!"
He also loudly emphasized: "I did not take an oath of allegiance to the government. And I won't do it either! The king is naked. Everyone knows that. There is no point in hiding it." He repeated and confirmed his statement with the words: "I have not taken an oath of allegiance and will not do so! You could have accused me of anything, but you should never have called me a deceiver! You'd rather shoot me in the head with a bullet!"
At the end of his defense, Kuytul said, "You tell me to be silent. But I will not remain silent. And I will not take an oath of allegiance. And whoever has to do with this thing, whether in the police, justice or secret service… I will forgive none of these people and I will charge them on Judgment Day!
The fact that the 4th large criminal chamber, which had decided on release on 24 January in this file and today in the same process with unchanged evidence decides the continuation of imprisonment shows once again in no uncertain terms that this process is not one legal but a political process.
Tens of thousands of sympathizers, who have been waiting one and a half years for an end to this injustice, expressed their indignation about it openly today.